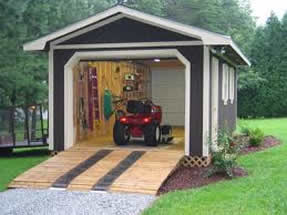 Exessive amounts of clutter in any household can very quickly become untolerable, it can be just junk we need to keep, or we just need to have a nice store for our outdoor garden equipment. All the untidiness very often affects ones state of mind so it is important to have somewhere to store the clutter, and a garden shed is the answer to reduce the clutter. http://cheapshedsforsale-uk.co.uk have written this guide to help you on your mission to find the perfect garden shed for your garden. Or if you prefer you can download this free ebook on >>>> how to build a Garden shed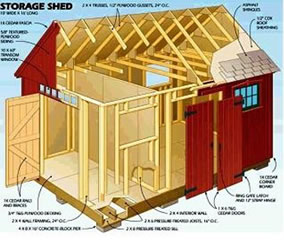 What Size Should Your Garden Shed Be?
One rule that we recommend is to buy the size that fits your budget, the bigger the better, we cannot supply cheap sheds that will house lots of bikes, a few lawnmowers and all your garden furniture with some spare space for bits and pieces, it is just not possible.
So, firstly measure the shed space area, anything minimum of 2 mtrs sq is a good start, this will be sufficient for some garden tools, a lawnmower and some bits and pieces. If you can measure your area as 3 mtrs by 2 mtrs, then you will have room for bikes, garden tools, a lawnmower and some toys with room to spare.
TIP…. Sheds need shelves to give you more storage space for small items such as paint and brushes, nails and screw boxes etc, otherwise things can be very messy in your garden shed
Your Garden Shed Needs A Roof, What Style Do You Want?
If you are looking for a cheap garden shed, the design is not too important at this point, instead, the shed style decision needs to be made. If you need to store tall garden furniture like patio heaters then you need a pitched or apex roof.
Alternatively you could decide on a pent style garden shed which have a single slope which can be built against a fence or wall (search for pent sheds in our search box). The next decision is where the door will go. The best option would be to have it on the longest side for ease of access taking large items in and out. Big doors are a must.
Metal, Plastic Or Wooden Garden Sheds, Which Type Is Best For You?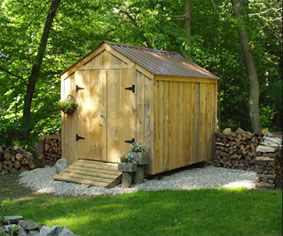 The choice of material for your garden shed will determine it's lifespan but dont expect it to stand the test of time if you opt for a cheap garden shed, of course regular shed maintainance will help to preserve your garden shed for much longer. Many cheap sheds are built from wood bi-products which are cheap and recycled. These wood bi-products are cut to shape and then wood preserved for a longer life.
Of course some cheap sheds can last a long time, but usually they begin cracking and warping, so look for tongue & groove cladding garden sheds as they tend to last longer.
This type of garden shed is better designed for structural shape longevity and does a better job at keeping the elements out. Obviously you are here looking at cheap garden sheds and wondering if some of these cheap sheds will work for you, of course they will, and on the off chance you are looking for something different and going all out to care for you garden equipment, an Apex shed comprising off durable polypropylene, with a steel reinforced structure and an all weather design, virtually maintenance and fade-free.
TOP TIP…Keep the shed feet or floor panels dry to enhance it's lifespan.
Some Shed Comparisons

Plastic Garden Sheds
Metal Garden Sheds
Timber Garden Sheds
Pros: maintenance free, transported and fitted easily, lightweight, large opening.

Cons: Not very environmentally friendly, sometimes an eyesore, limited styles and sizes.

Pros: Fast assembly, highly customisable, safe, secure and lockable.

Cons: Condensation problems, cold & noisy, prone to rustimg problems, can be costly

Pros: Very environmentally friendly, lots of shapes and sizes, customisation possible

Cons: More maintenance, cheap sheds for sale can be weak and flimsy, hard to move
Save